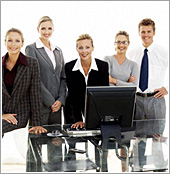 DataTek is a professionally run global IT consulting firm that defines , designs and delivers technology. We provide information technology solutions for our Fortune 500 companies in the USA and around the world. Our specializations span Information Technology Consulting, Software Developing, Staff Augmentation, Project Outsourcing and Direct Placement. World-class facilities at our strategically located premises and our highly dedicated team ensure that our clients enjoy the best services at economical values- all under one umbrella. DataTek's 24x7 services meet benchmarked international quality. Our robust service-level agreements (SLAs) enable us match and exceed customer expectations, making us the perfect partner to help our clients implement their information technology needs cost effectively and efficiently.


What We Offer
Years of inter-continental experience helps us to bring you offerings that are unique. The Company provides cost-effective IT-enabled corporate solutions for our clients to deliver innovative, interactive and integrated services. DataTek is focused on providing innovative e-business and enterprise based applications including Data Design and Development, Data Warehousing, Software Design, Testing and Development, Software Consulting, Web Design and Development.
Board and Management
A blend of Experience, Dynamism and Commitment, our Board and Management team delivers services that work for our clients and builds strategic long-term client relationships. We work with talented individuals from many different backgrounds and with many different Ideas. This enriches our creative solutions and ultimately adds value to our clients' businesses. Our multi-skilled software professionals and project management team with over a decade of experience have come together to accumulate their experiences and serve the technology sector giving an edge, while our consultants have the expertise to handle projects of any size with confidence. Our clients from United States, UK, Canada and other parts of the world enjoy the control over projects that comes with merging their personnel and our staff in a unified team, working to promote a transfer of knowledge.


Our Mission
Develop and deliver unrivaled quality products, solutions and services that offer our customers excellent productivity. DataTeK has been successfully meeting and exceeding customer expectations regarding delivery commitments, quality and consistency of work, effective communication and quality improvements since its inception. We are experts at applying technology to achieve quantifiable results. Let us show you how our knowledge, experience, commitment and creativity can bring tremendous value to your business.