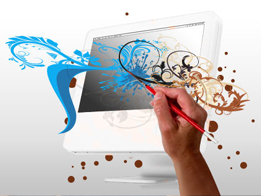 At DataTek, we believe that the key to an effective website is the design. We provide professional website design, development and maintenance services. Our skilled web designers and developers accomplish various website projects from brochure sites to multi-functional web portals. DataTek has a large pool of resources and the required business and technical expertise to develop websites of any complexity. When we work on website designing, we also ensure that your brand is reflected in your web presence. Each aspect of your web design is taken into consideration and we work tirelessly to ensure that the website is created with the right mix of excellent design and industry standard benchmarks. We have expertise in creating interactive, dynamic and engaging designs, so that your customers can reach the desired web page effortlessly.
Our strategy is based on how to leverage our technology expertise to achieve your business objectives through your website. Our custom website design process is a step by step logical process with the following milestones:  
Collect your website requirements and objectives, research, and conceptualization of the website
Graphic design of the UI, determine the information architecture and perform wire-framing
Develop customized content for your website
HTML, CSS and JavaScript coding
Check the website prototype for compliance against universal standards of web development
Rigorous testing for quality assurance and validating against your business requirements
With a team of highly experienced analysts, website development programmers and data engineers with expertise ranging from 2 to 10 years, we boast of having the right website design expertise to develop and support your technology needs.